Hello!  It's almost that time of year when we celebrate women in our lives who have influenced who we are - Mother's Day!  Whether you are a mother or not, there is undoubtedly, a woman in your life that has help shape who you are.  I am fortunate to have many that I get to celebrate!  
I will admit, I am not good about getting cards out in the mail, let alone handmade ones! This year I made it priority and created Janet's Doily - Mother's Day Card!  The name is a celebration of my mother - Janet, who passed away when I was young of MS.  She was creative and loving and funny...I want to celebrate her and the other women in my life that have impacted who I am daily.  :)  Let's get started!!!!!
Supplies needed:
Fingering weight yarn - I used cotton
3mm hook
Darning needle
Scissors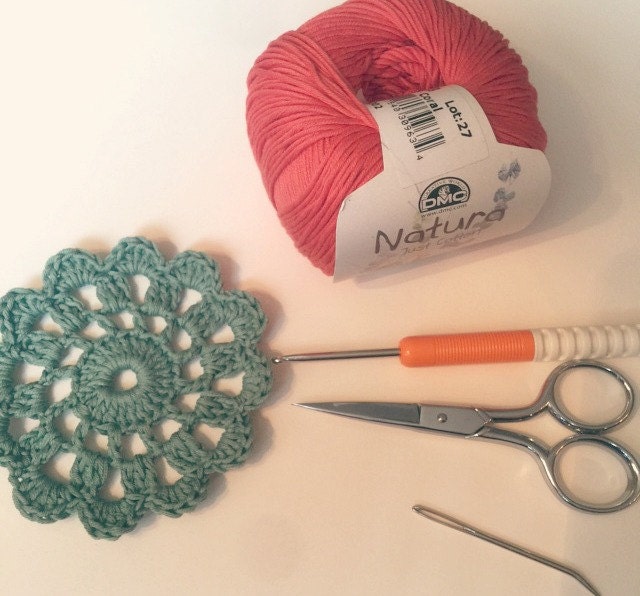 Abbreviations:
ch - chain
sl st- slip stitch
sc- single crochet
hdc - half double crochet
dc - double crochet
sk st - skip stitch
st - stitch
Finished doily measures 3 1/2 inches
Round 1:  Ch 8, join to first ch with sl st to create a ring. 
Round 2:  Ch 3, 23 dc into ring, join into 3rd ch of beginning ch 3.   (24)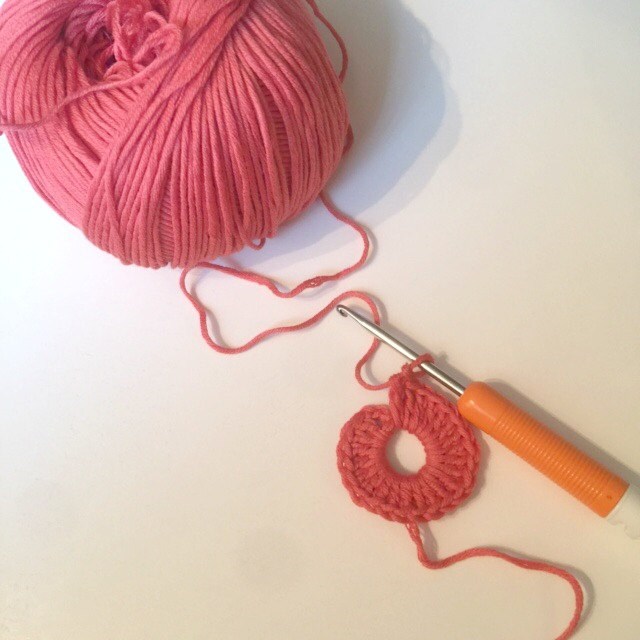 Round 3:  Ch 6 (counts a 1 dc and  ch 3), * sk st, dc in next st, ch 3*, repeat between * 10 more times, join in top of ch 3.  (12 spaces)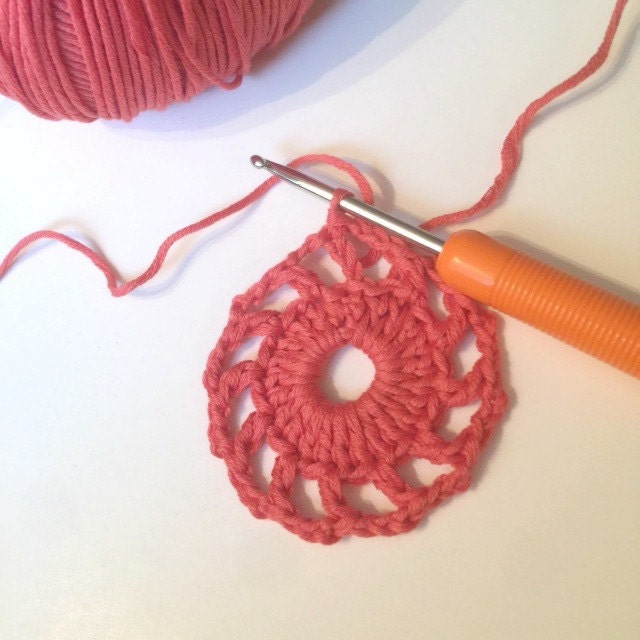 Round 4:  Sl st into next ch 3 space, ch 3, 2 dc in same ch space, *ch 3, 3 dc in next ch space*, repeat between * 10 more times, join with a sl st into ch 3.  (12 spaces)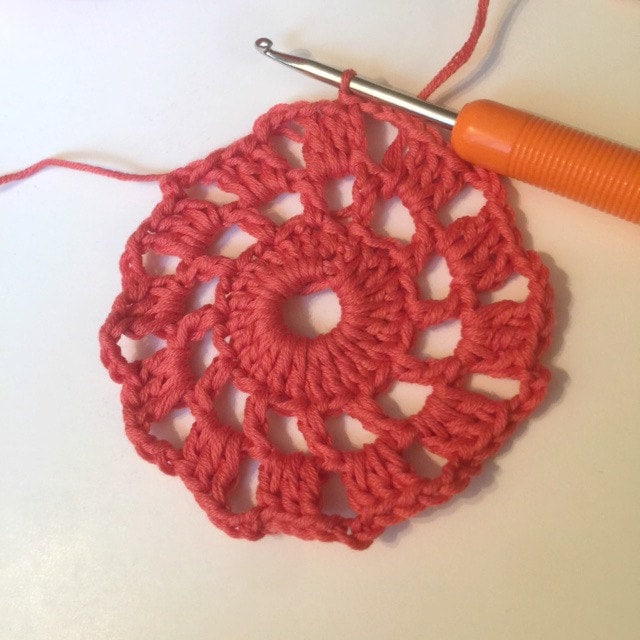 Round 5:  Sl st the next 2 dc, *(sc in next ch space, hdc, 3 dc, hdc, sc)*, repeat from * to * in each ch 3 space around 10 times, sl st into 1st sc.  Fasten off  (12 scallops created)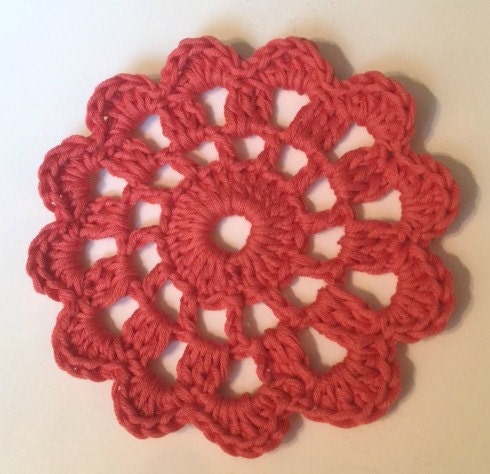 Now that we've created Janet's Doily, let's make the Mother's Day Card!  
Supplies needed:
Janet's Doily
Ink pad 
Sponge for aging edges
tape runner  or adhesive
5 1/2 x 4 1/2 white card
Writing instrument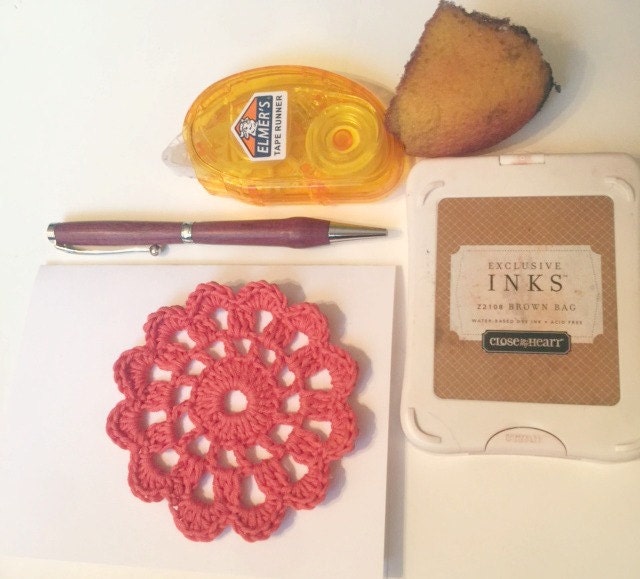 Step 1:  Using the tape runner, or your adhesive of choice, apply in small spots on the back of the doily.  Ok, this can be a bit tricky, but the tape runner works the best for me.  I just put a little bit of tape on each petal and such.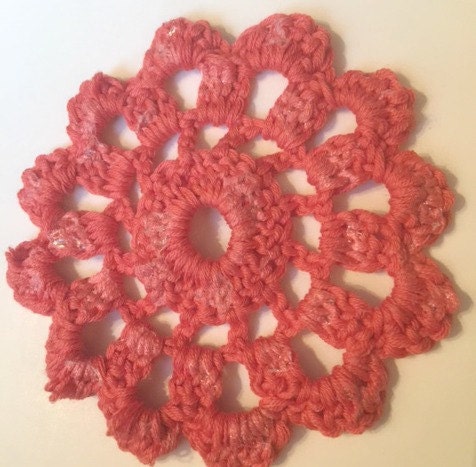 Step 2:  Adhere doily where you'd like it on the card. I prefer it offset so I can write a word or words on the bottom left edge.  
Step 3:  Take sponge and dab it on your ink pad - I use a brownish color to give it an aged look.  Also excuse the look of the ink pad...it's like 10 years old! Best inks around though!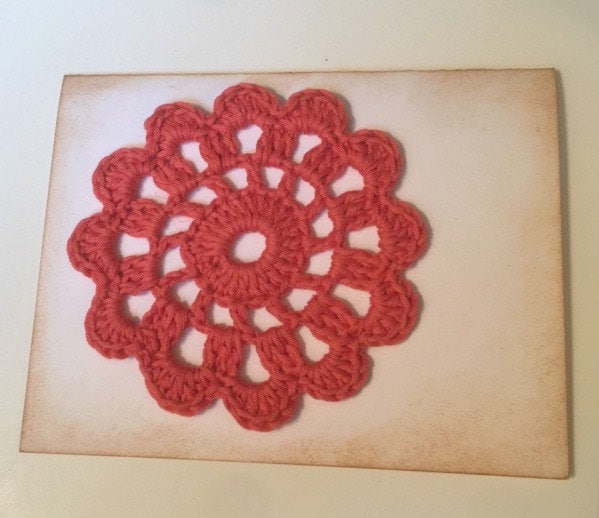 Step 4:  Write a word of endearment in left bottom edge, or where ever you prefer!  Viola!  You have your own Mother's Day Card!  Super easy, and I promise a meaningful card to whomever you send it to!  
Happy Mother's Day!!!!!
Peace, Knit & Crochet, 
Kathleen